10 Things To Do For Houston Spring Break 2022
If you're looking for something interesting, different, and FUN to do over Spring Break, Living Houston's got you covered with 10 things to do in Houston for Spring Break 2022!
Experience your favorite Pixar movies like never before at this brand new imaginative putt putt pop-up! Pixar Putt recreates scenes, stories, and characters inspired by the animation studio's iconic movies in the form of an interactive mini-golf course!
Without a doubt, the ocean is teeming with a multitude of beautiful sea life. One creature that continues to pique our wonder and fascination is the shark. Take an underwater train ride at the Downtown Aquarium to get a closer look at this amazing creature.
Ring in spring this year at Railway Heights Market in Houston, which is hosting a vibrant Festival of Colors event on March 19th with authentic Indo-Pak food, Bollywood Dancing, and all the colors of life!
Seltzerland is turning the Wildcat Golf Club into a hard seltzer paradise! They've rounded up the best hard seltzer brands in the land for one epic day dedicated to the bubbly brew everyone can't get enough of. Enjoy this one-of-a-kind experience as you spend the afternoon walking along the greens and tasting 100+ unique hard seltzers lined along the fairways. Indulge in mouthwatering munchies, find plenty of photo ops, and take home tons of swag.
In this buzzing city of ours, we're proud to represent the Latin American culture. Old Town Harrisburg in Houston's East End offers a Latin oasis featuring vibrant architecture, indoor and outdoor markets, weekend art fairs, awesome restaurants, and more!
Get outside and make a special memory with your family this spring. Roller skate beneath the glittering lights of downtown in the center of the beautiful 12-acre park at Discovery Green.
Tickets are $12 per person plus tax and includes skate rental, and check out their special themed nights.
Artwork from the iconic post-impressionist painter Vincent Van Gogh will come to life in a 360-degree digital spectacle that will illuminate and transform the physical space into a fully immersive exhibit. You'll see Van Gogh's work take over the walls and encompass your surroundings through the lenses of several dozen projectors, hyper-realistic VR headsets, or a mix of both.
Imagine returning from spring break boasting your newfound sandcastle-building skills! Turn your imagination into reality when you attend "Sandcastle Days" at Galveston! Lessons are by the water's edge, straight down from the East Beach Pavilion. Registration is not required, and the event is free!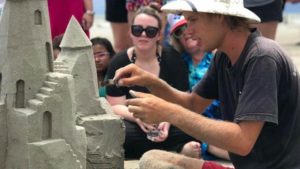 The latest boozy hangout to grace the Houston bar scene is the Trash Panda Drinking Club in Lindale Park. A Southern-inspired concept from bartender, Greg Perez, and chef, Lyle Bento. You'll find inventive drinks, delectable food, and a unique atmosphere.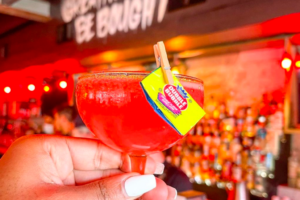 Enter a stunning, three-story glass structure built around a 50-foot waterfall! This simulated tropical rainforest is filled with exotic plants and over 1,500 flying butterflies. These beautiful, delicate creatures imported from butterfly farms around the world will delight you as they flutter through the vegetation, stop to sip nectar or fruit juices, and occasionally perch on lucky visitors. Adults $12.00. Children $10.00.
Enjoy all these things to do in Houston for Spring Break 2022!