With our busy lifestyles, it is crucial to hire a Realtor that is going to get the job done right the first time. I am not a typical real estate agent. I am also a consultant--making sure you have a full understanding of your transaction. You can relax knowing I am exhausting all possibilities when it comes to exposure for your listing, finding the right house to meet your needs, or handling your investments and transactions with expertise. If you would like an agent that will take care of you with a professional level of service, call me today.
Growing up and relocating frequently throughout my childhood peaked my interest in real estate. My career has spanned a decade of experience which has included property management of over 75 single family homes and commercial properties, assisting clients to purchase and sell their homes, and helping people to lease property. What is most amazing about doing business in Houston is the diversity of lifestyles you can achieve in our beautiful city and it's surrounding areas-- from the fast paced, city life with easy access to restaurants and nightlife, to the calm and serenity of open acreage and country living. The Houston metroplex has it all!! What I love most about being a real estate broker is the relationships and friendships that develop throughout the process, and the ability to assist my clients in a life changing experience that helps to open or close a new chapter in their lives!
Marie is a native Houstonian who has been dedicated to her career in real estate since 2001. Her upbeat energy is contagious and inviting. She truly listens to her clients to seek and understand their wants and needs. Her fierce passion for client-satisfaction is the key to her success.
Professionally, she is a full-time Realtor serving clients throughout Fort Bend County, specializing in the West-Southwest area where she is well-versed in all skills necessary to facilitate a variety of transactions. Her ongoing in-depth training, coupled with over 20-years of experience, gives her exceptional insight into the world of real estate. From basic to complex deals, Marie has keen and up-to-date knowledge of the market, as well as the negotiation skills and strategies to get the job done!
Marie takes pride in being a member of the Houston Association of Realtors, Texas Association of Realtors, and National Association of Realtors. She also has a position on the First Colony Real Estate Committee. An integral member of her community, Marie not only regularly volunteers for school functions in Fort Bend ISD where her children attend school, but she moderates and participates as a top contributor in social media groups, namely MOMS of Missouri City/Sugarland on Facebook, which has over 2500 members. She supports and promotes local businesses and gives back to her community whenever the opportunity arises. Marie also enjoys cooking, living a healthy lifestyle, and making new memories with her family, friends, and fur-babies.
If you are looking for a Realtor who possesses advanced knowledge, years of experience, professionalism, and integrity, Marie Vu has them all. She always delivers personal attention and excellent customer-service, and never without an infectious smile.
I've worked in the real estate industry for the past few years in community outreach, marketing, and as an executive assistant for Living Houston. Under my broker's mentorship, I developed a love and passion for the real estate industry and made the decision to become a licensed Realtor. I'm intuitive, personable, and an excellent communicator. My penchant for connecting with people and their needs allows me to help match them to their desires. My industry knowledge and negotiation skills make me invaluable to my clients and other agents. With the highest level of professionalism, I provide unparalleled service and constantly advocate for my clients. As a Houston area resident for 30+ years, I'm an expert in neighborhoods in and around Sugar Land and Missouri City. Living Houston is an integral part of the community, and supporting local businesses is a pillar of our brokerage. Supporting the community is also a key aspect of my personal life as a mom of two; helping my children develop strong community roots through their education and activities is essential. These connections allow me to network and thrive within the city and give me a more in-depth perspective to offer clients moving to Fort Bend County and surrounding areas. My commitment and dedication to both work and family are at the core of who I am. I'm genuine, honest, professional, and a lot of fun, and you'll find yourself continually impressed with all the staff at Living Houston Real Estate.
Cicily Marie comes to Living Houston with a strong background in not only sales but negotiation tactics. With a wealth of experience in the new construction industry and as a personal wellness and development coach, becoming a Realtor is the perfect avenue to match up her greatest strengths and passions in a way that helps others navigate the confusing waters of finding and purchasing their dream home. Her ambitious attitude and entrepreneurial spirit coupled with her innate ability to deeply connect with others, makes her not only an asset for our brokerage, but for each client she takes on.
Frank comes from twenty years of high-end retail management. He specializes in commercial leasing and purchasing. In his leisure time, he is an avid triathlete and has competed in several Ironman races.
Alexandra was born and raised in Houston, making her an expert in the market area. After being in the automotive industry for ten years, she took a break to enjoy being a stay-at-home-mom and then re-entered the workforce in the title industry.
Her experience with title will benefit her clients immensely as she's witnessed just about every worst-case scenario giving her the ability to ensure smooth transactions. She's immersed in real estate and continuously educates herself, staying up-to-date and knowledgeable to serve her clients better. She's vetted her vendors and is surrounded by the best of the best who only offer 5-star service.
Alexandra has a precious family. She shares two incredible sons and step-kids with her husband, A.J. She's a HUGE New Orleans Saints fan, loves the water, campfires, Texas country music, and NEVER turns down a margarita.
We're thrilled she's part of our Living Houston family. You can follow her on Instagram and Facebook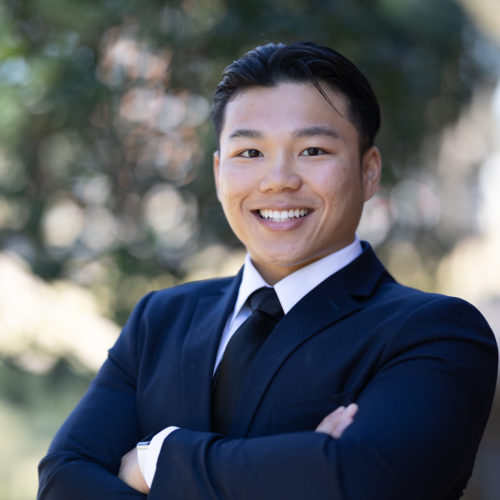 My life has always been in Houston. I grew up in the suburbs of Sugar Land and spent much of my time in the city. Becoming a REALTOR® in the Houston area was an easy decision because I have strong ties to the community, an entrepreneurial spirit, and a deep desire to be someone my younger brothers look up to.
I was raised by immigrant parents who taught me to work hard and be consistent, and those ethics have engraved themselves in my personality. I've also been in athletics my whole life, which played a substantial role in developing my work ethic. Athletics has also taught me how to be part of a team and build relationships.
My current priority is establishing my career and cultivating it to grow a successful business. One of my top goals is to help my parents retire, and I look forward to achieving it. As your REALTOR®, I pledge to provide you with the highest level of professionalism, commitment, representation, and 5-star service to help you find your dream home or make investments.
Travis specializes in assisting millennials in finding homes –whether they're curious about moving out and renting for the first time or buying a home. A multi-talented artist with a love for photography, Travis has always had an eye for design. When he's not helping clients, he can be found filming content for his social media.